Lakeshore Tennis Club
---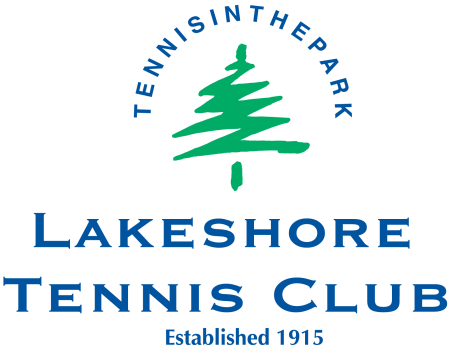 WELCOME to Lakeshore Tennis Club and to our brand new software management program called 'Court Reserve'. We hope that you will find our club a wonderful, happy place to be while simmering in the heritage and ambience of this over 100 year old club - a truly hidden gem in the park! We also hope you will make some new friends, find lots of games, have opportunities to grow and improve. But mostly we hope that you will enjoy tennis as sport and learn to love Lakeshore Tennis Club as an organization, and support it over the years by coming back year after year!
Please note that due to Covid-19 Restrictions, many of our amenities and activities are not available at this time. As the situation evolves, please watch for updates through our newsletters that you should expect to receive. Children's programs and camps are under review for protocols and safety consideration. Stay tuned.
UPDATES: DOUBLES PLAY & LEAGUES ARE NOW ON!
ATTENTION NEW TO TENNIS? .. LAKESHORE TENNIS CLUB IS NOW OFFERING 'INSTANT TENNIS'
For $99, includes 4x 1.5hr lessons + Novice League, Tues & Thurs evenings, 5:30-7:00pm Session 1 starts July 7th
To Register:
- Join under the "guest membership"
- Go to "events" or "event calendar"
- Scroll down to instant tennis 1 or 2
- Click register and pay
IMPORTANT REGISTRATION INFORMATION:
When setting up your account NOTE -

EVERY member

needs a

DIFFERENT

EMAIL

for

EACH ACCOUNT

-

Juniors too

... - EXCEPT for Family memberships.

You must pay for your membership ONLINE; cash and/or cheques are not accepted. Payment is required to access any membership features and/or to book courts.

Every member on court, must have an online reservation.

Families new to tennis

are encouraged to attempt booking on corner courts, 8, 5, or 1.



After registering for your membership, for added convenience, make sure to download the 'Court Reserve' mobile app from the App Store or from Google Play.

Guest fees are $10 per visit, and limited to 5per season.
IMPORTANT COVID-19 CONSIDERATIONS 2020
DO NOT COME TO THE CLUB AT ALL IF YOU ARE SICK.
If you develop any symptoms, please notify the club and all persons with whom you have played with in the previous two weeks.
Call the Health Authority for testing and or advice.
Please bring your OWN hand sanitizer and USE IT:
1) Before entering the court, 2) After your go through the gates, 3) After you leave the courts.
PHYSICAL DISTANCING:

When waiting to enter a court, or when entering and when leaving the courts,

maintain physical distancing of 6ft at all times

.

Do not enter any court until all of the people who were booked before you are off the court.

If you are playing, wrap up your game five minutes before the end to allow everyone time to safely distance on and off the courts.
PERSONAL ITEMS:
Arrive with only the racquet you are using, the balls you are using, and water.

Leave bags and other personal items in your car or at home.

Do not gather or group your personal items that you do bring with others in a central location but spread them out at each side of the net poles or behind the courts away from others.

Maintain physical distancing even when accessing them.
BALL HANDLING:

Handle ONLY the balls that you mark as yours and bring and/or use a clean golf glove for your serve toss hand. See the attached video regarding safe play.

Be AWARE – do not touch your face and if you see anyone doing so, stop the game, sanitize hands immediately.

Instructors must only use the hopper of balls that only they use. Clients are not allowed to handle them.
BALL MACHINES & BALL HOPPERS:

When the ball machines become available for use, wipe the machine before and after use with the disinfect wipes provided.

After the machine has discharged the balls, DO NOT handle the balls; Pick up the balls using the auto pick-up and canister tools used for pick-up. Sanitize your hands before and after each round of discharge.

Hoppers of balls will

not be made available

at this time. To practice your serves, you will need your own hopper of balls that only you use. Hoppers and balls can be purchased through Sask Tennis or online