Nanaimo Pickleball Club
---
Welcome to the Nanaimo Pickleball Club Event Management System (CourtReserve).
If you would like to become a member then click on Create Account to apply for Membership. If you are an existing member then click on Log In to enter CourtReserve to book your play sessions.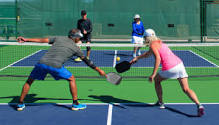 The Nanaimo Pickleball Club is offering seven playing sessions a week: The fee for the one and one half hour sessions are $7.00

PICKLEBALL PLAY IS OPEN TO SINGLES PLAY ONLY DUE TO COVID-19 RESTRICTIONS
Mondays, 11

:45 - 1:15;

Tuesdays,1:00 - 2:30

Wednesdays, 11:00 - 12:30

Thursday, 11:45 - 1:15




Fridays, 5:15 - 6:45;

Saturdays, 2:30 - 4:00



These events are open only to members of the Nanaimo Pickleball Club. All events are held at the Oliver Woods Community Centre.
To start booking your session:

- Click on the menu icon (three horizontal lines ) if the menu does not appear on your screen
- Click on "Events" or "Calendar" to see what events and play sessions are available.
- Find your skill level.
- Find the event in which you would like to register.
- if you are interested in an event click on the event to register. Pay for the event if you were successful in registering for the event.
- If the event is full then click on waitlist to be waitlisted. You will automatically be moved from the waitlist to the event on a First Come First Served basis if cancellations occur. You will be prompted to pay for the event when you are registered from the waitlist. To complete your payment once you are registered from the waitlist go to Your Profile in the menu and look under Transactions and then under Unpaid Transactions and click on Pay
- if you cancel an event after you register, sorry no refunds so only register for events you know you can attend.

If you would like to download the mobile apps for your devices please click on the link below for your device. The app will allow you to view, book and pay for sessions.
Apple - https://apps.apple.com/us/app/courtreserve/id1392556575?ls=1
​
Android - https://play.google.com/store/apps/details?id=com.courtreserve
​
Member Directory
This directory is for member use only for Club activities. Any other use or sharing this information with non Club members is strictly forbidden and could result in your membership being suspended.